DIY landscape lighting not only provides function, but can make your outdoor space substantially more beautiful. If you've already pulled-out all the stops to make your yard look top-rate with spectacular hardscaping and softscaping, it's time to put the last piece of the puzzle into place–landscape lights.
Outdoor light transforms a yard, patio, deck or garden from ordinary to extraordinary. Not only does landscape light make your exterior accessible during the evening, it sets-off key features that dazzle the eye.
And the good news is, the majority of exterior lighting is energy efficient. There is a wide variety of low voltage outdoor lighting fixtures on the market. Not only does that lower the long term cost, it also provides a great deal of fixtures from which to choose. (more…)
---
Pool remodeling is a major construction project and can be a very costly one. So, it's important to know some key facts about pool remodeling before jumping in with both feet. Before you can cool off during those hot summer days or laze about along the glimmering water, pool remodeling takes a good deal of commitment. It certainly won't be done overnight.
The good news is, after a pool remodeling job has been completed, it will make your inground amenity look entirely new again. And the majority of pools have a limited plaster coating shelf life.
But the plaster coating isn't the only material that can wear to lead to a pool remodeling. There are other elements which can warrant pool remodeling. Pools are endure a lot of stress, which comes in many forms. The weather elements are one thing that can affect a pool, particularly the water quality, as rainwater is harmful to a pool. (more…)
---
The rain barrel, an ancient and efficient way of temporarily storing water for those not-so-rainy days or dry spells. Used for irrigating plants and lawns, vegetable and flower gardens, even for washing clothes. They're also used for drinking water when properly distilled. So, these devices are a great way of cutting down costs and conserving water.
Generally, homeowners install rain barrels under a drain spout connected to a gutter system on their houses. When it rains, the gutters channel the rainwater down through the spout and into the barrel. For areas like ours, where rain is a common occurrence, especially in the summer, these simple collection devices are a smart way to harness the power of nature's wet nourishment.
Like with most things in life and landscaping, there's some trade-off for free future irrigation and these particular problems come in two forms: stale, dirty water and disease carrying mosquitoes. When a rain barrel is full, the water begins to stagnate, slowly creating a stench; and, any standing water is quite attractive to the local mosquito population. (more…)
---
Outdoor awnings are a terrific way to lessen the glare of the sun and reduce the amount of ambient heat coming into the home. They are also decorative and provide an aesthetic improvement to a home's exterior, deck, or, patio. If you are thinking of adding an outdoor awning to your home, you won't need extensive contracting experience to do so. In fact, the whole project should take no more than a few hours to complete with the aid of a helping hand.
How to Install an Outdoor Awning for Shade
The great thing about an awning is it serves more than one function. These can be decorative, helping to continue an aesthetic theme of your backyard landscape. In addition, awnings are a cost-effective way of reducing energy use in your home.
Shade Awning Function
The shade an awning provides does much to protect the surface of a deck or patio, and, also protects outdoor furniture fabric from fading and becoming frail. It offers protection from falling debris and other objects while cooking outdoors on a grill. (more…)
---
A stump is a surprisingly stubborn object. It can take months or years to see the decay begin to set-in, and, that's just the beginning of a very long decomposition process. It will take a lot more time for a stump to fall apart and for the root system to no longer hold it firmly in-place. Because of the problems stumps present: tripping hazards, lawn mower obstacles. And, being unsightly, you'll want to deal with it right away instead of letting nature take it's very slow course.
The answer for some people is to rent a stump grinder. These big, powerful machines seem to be a quick ticket to ridding the ground of a stump. However, looks can be fooling, because it requires a lot of experience and labor to use a stump grinder. It won't magically disintegrate the stump in one fell swoop, it takes a whole bunch of effort and is a dangerous machine to use for those without experience. The good news is, there are two ways to remove a tree stump without a grinder. (more…)
---
Everyone loves the site of colorful butterflies in their garden. These delicate and diverse creatures are marvels to the eye and provide a sense of nature that can't be duplicated. The truth is, you don't really need a "butterfly garden" to attract these beautiful creatures. In fact, if you study the species a bit, you'll learn that some of the most attractive things to butterflies are weeds–the last thing that we would purposely add to our landscapes.
Butterflies are attracted to certain plants but don't necessarily spend a lot of time in them. If you want to attract butterflies, you've got to think about not only adults, but also larva and caterpillars. In other words, you have to provide a complete environment to truly attract butterflies and this includes other elements than just plants.
The good news is there are so many types of plants that attract these colorful creatures, that's it's somewhat difficult to select ones that won't do the trick. This is a welcome fact, because the more butterflies you attract to your yard, the more they'll help in pollination and that promotes more robust, health growth of your flowers. However, when to attract these brightly colored insects, you'll also attract predators, like birds, spiders, reptiles, other insects, which include such unwelcome guests as wasps, flies, and mites, as well as small mammals. (more…)
---
Here in the Sunshine State and across Sarasota, we see these puffy protrusions poking up from the soil amidst green grass. These are quite common growths, especially during the rainy season, which, we are presently experiencing. Large varieties are referred to as "lawn mushrooms," while small growths are considered to be toadstools. Regardless of the name or size, these are unsightly nuisances, and, can be quite harmful.
Lawn mushrooms are the result of fungus growing in the ground. Essentially, these are fruits of growth, which are fueled by moisture. Because we live in such a humid, subtropical climate, these growths thrive. All that's needed is there in droves: soil, moisture, plenty of sunlight, and room to rise. This growth is remarkably rapid, seemingly sprouting overnight, and, when pulled, grow back with vigor.
Constant combat is a worry for homeowners, especially those with vegetable and flower gardens. It's not just how ugly these growths are, but also, what the possible dangers may unfold as lawn mushrooms push up through the soil and tower just above the grass. Mow over them, and sure enough, they sprout again, or, pull them and the same thing happens. (more…)
---
With summer in full-effect, there's no time for an unworking sprinkler system. Lawn irrigation is key to keeping the grass healthy and helping to make the landscape look its best. So, when the sprinklers don't function, it could easily hurt your lawn.
Brown spots might develop and spread across from one side to another, leaving an unsightly presence. So, you need to take action right away to get that irrigation system up and running again.
Don't worry, with just a few common tools, a bit of trial and effort, and some keys observations, you can troubleshoot and fix your lawn sprinkler system. And, you'll probably discover one or two unknown problems along the way. The best part of this is, you don't need to be an experienced technician, just some strategic elbow grease ought to be enough.
Common Sprinkler System Problems
Over the course of our mild Sarasota "winter," there's little to no need to water your lawn. The temperatures are typically mild and grass is dormant as precipitation levels fall greatly. As the spring months roll around, you lawn might need a little assistance and that's where your irrigation system will come-in handy. It's best to spread fertilizer when it will do the most good, which is just before the break of dawn. (more…)
---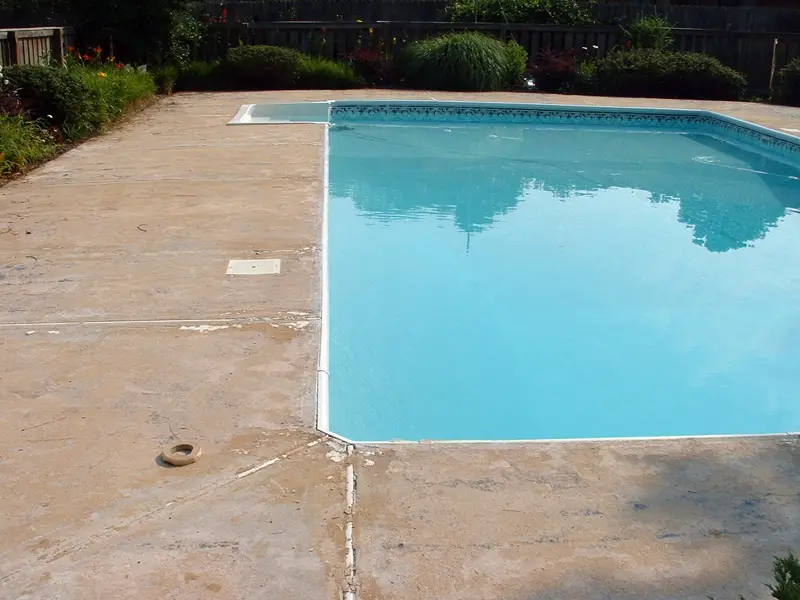 Here in Sarasota, and across the Sunshine State peninsula, swimming pools are quite common, creature-comfort home amenities. The balmy, warm, subtropical like climate suits this recreation feature perfectly, and, because there's an abundance of sunshine and hot days, pools can be used most of the calendar year.
Swimming pools are generally works of art. These not only are a great source of cool enjoyment, but also, help to complement the landscaping, and, the home itself. Designed in a variety of materials, shapes, and colors, pools can be simple or exotic. What's more, these can be customized to accommodate almost any yard, and, nearly regardless of its configuration.
Though a pool is a welcome escape from the heat and makes an ideal place to relax and entertain, the surrounding patio will endure a lot of wear and tear. This is due not only to the heat and sunlight, but also, inclement weather, and normal use. Eventually, there are unmistakable signs a pool patio is ready to be refinished. (more…)
---
Summer is here in Sarasota, a preview of the annual season already occurred. If you think you're dealing with a lot of stress and dread heat and humidity, just think about your yard. It can't escape the sun and you compound its problematic existence by walking all over it. Hours of high heat, with little reprieve overnight, made worse by strong summer storms all spell trouble for your yard. That's why it's important to know how to keep a yard health during summer. (more…)
---
We Provide Services to the Following Cities and Towns in FL: